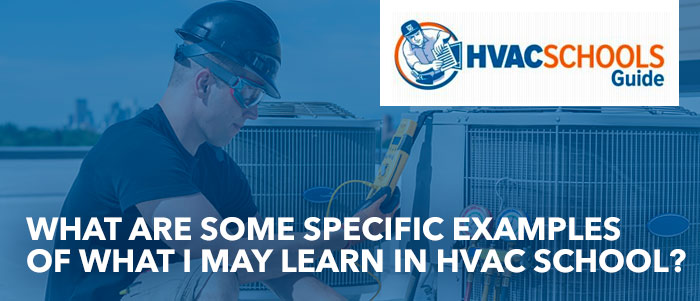 In an HVAC school, you will learn the technical skills and knowledge necessary to work with heating, ventilation, and air conditioning systems. Here are some specific examples of what you may expect to learn in HVAC school:
Basic HVAC principles: This includes an understanding of the principles of heat transfer, refrigeration cycle, and psychrometry. You will also learn how to use various tools and instruments used in the HVAC industry, such as multimeters, thermometers, and gauges.
HVAC system design: You will learn how to design HVAC systems that are energy efficient and meet the needs of the building occupants. This includes calculating load requirements, sizing equipment, and designing ductwork and ventilation systems.
HVAC installation: You will learn how to install HVAC systems and components, including furnaces, air conditioners, heat pumps, ductwork, and ventilation systems. This includes learning how to safely handle refrigerants and how to properly install and maintain electrical systems.
HVAC maintenance and repair: You will learn how to perform routine maintenance tasks such as cleaning and replacing filters, checking electrical components, and inspecting HVAC systems for signs of wear and tear. You will also learn how to diagnose and repair common HVAC system problems such as refrigerant leaks, electrical issues, and malfunctioning components.
Energy efficiency and sustainability: You will learn about the latest technologies and trends in energy-efficient and sustainable HVAC systems, such as geothermal heating and cooling, solar thermal systems, and high-efficiency air conditioning systems.
Safety and building codes: You will learn about safety regulations, building codes, and environmental regulations that govern HVAC systems. This includes an understanding of safe working practices, handling of hazardous materials, and compliance with local and national building codes.
Learning how to become an HVAC technician via HVAC school will provide you with the technical knowledge and hands-on training necessary to work with HVAC systems. You will learn about basic HVAC principles, system design, installation, maintenance, energy efficiency and sustainability, safety, and building codes.