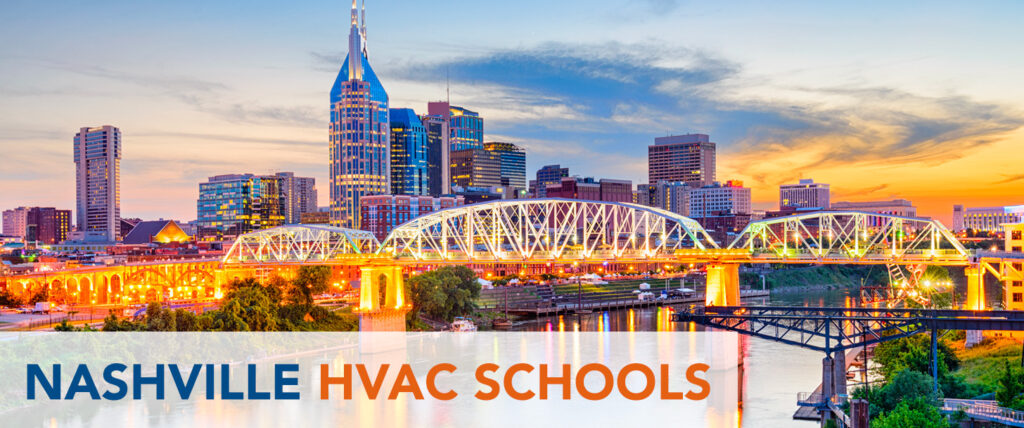 The summers in Nashville, the city of music, are hot, the days often cloudy and humid, while night times are cooler. In winter, the temperature freezes, especially at night. All these considered you can imagine that residents of Nashville definitely need HVAC services. So the demand for HVAC technicians in this city is fairly decent.
Nashville Tennessee has excellent training programs for those wishing to gain knowledge and skills in the HVAC field.
Sponsored Listings
HVAC Training Programs in Nashville, TN
There are some great institutions in Nashville from where you can get your HVAC training. For example-
HVAC Job Prospects & Numbers in Nashville, TN
The BLS (May 2019) reports that there will be a 4 percent increase in the demand for HVAC technicians in the USA between 2019 and 2029. For Tennessee, this growth will be seen at an even better rate. According to Projections Central, there might be a 15.2 percent statewide increase for the 2018 to 2028 period.
This reflects on a 2020 Bureau of Labor Statistics report, which shows that 3,340 HVAC mechanics and installers were employed in the Nashville-Davidson-Murfreesboro-Franklin area.
HVAC Employers and Careers in Nashville, TN
Here are some of the best-rated jobs for HVAC professionals in Nashville as listed on Indeed-
HVAC Salaries in Nashville, TN
The 2019 report from BLS stated that among the 342,040 HVAC workers around the US, an average annual salary of $51,420 was found. In Tennessee, there were 8,330 HVAC professionals employed who earned an average annual mean wage of $42,510. For Nashville in specific, the 3,340 HVAC professionals earned an average annual salary of $43,150.
The amount seems low from the national average. However, it's worth noticing that the Missouri Economic Research and Information Center found that Tennessee was the ninth-most affordable state in the country.